The Kueffner Company Vision & Mission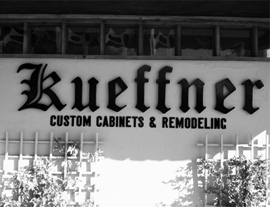 The Kueffner Company vision is to help people transform their homes into a showcase. To reach that vision, our family-owned business strives to follow our century-old tradition of old-fashioned craftsmanship. Our quality stems from living the belief that perfection can be achieved through meticulous, hands-on workmanship. We treat our customers with respect as we understand that we are working with them to achieve the best possible experience and results for their investment. Our Better Business Bureau rating of A+ reflects our unswerving commitment to our mission.
view BBB Rating

The Kueffner Family Crest stands for a tradition of outstanding craftsmanship.
A Tradition of Artisans
1905

Wilhelm Kueffner began his woodworking business in Germany.

1954

Fred Kueffner, Wilhem's grandson, migrated to the United States.

1972

The Kueffner Company was established in Scottsdale, specializing in European-style craftsmanship.

Today

Roland and Wilhelm Kueffner carry on the craftsmanship tradition started by their great-great grandfather.